Our Products


In addition to our custom consulting and facilitation, our exciting product offerings include:

Shifting Sands® is a multi-media, CD-ROM-generated simulation dealing with change and transition. Change is like a desert. It's vast, it can seem endless, and it's easy to get lost. The compelling question for organizations is: Do you merely want to survive crossing the desert or do you want to have the organizational capacity and morale to tackle the next one right away? With this desert metaphor as part of their corporate culture, employees are better prepared to help each other seize opportunities as they move together more quickly and effectively through any transition.

Personal Catalyst® (PCat) is a revolutionary, individualized life design process. PCat blends the wisdom of the inner self with modern technology. For 18 years clients have been reporting greater clarity, focus, and confidence in making the important decisions in life. And once the decisions are made, they report quicker and more positive results, with much higher levels of success.

Personal Catalyst requires one full day to complete, and we work together very intensely. This is an empowering process that will leave you feeling as though you have stepped into a new world. Before you leave, an appointment for a coaching session is scheduled, usually for a week or two later. Three coaching sessions are part of the process, so you will spend approximately 12 hours with us.

Organization Workshop® helps you develop systems that help people to work in partnership up, down, and across organizational lines-systems that are flexible and responsive to real-world happenings. It's not about listening to pie-in-the-sky theory about people and organizations. It's an energizing experience that has been proven effective with hundreds of organizations worldwide.

Whether you're dealing with rapid growth, managing change and transition, or positioning your organization for the future, the direction your organization takes in dealing with these critical issues can make all the difference. With Organization Workshop® you don't just talk about these organizational issues, you live them! Participants experience first-hand what life is like in other parts of the organizational system, so they can feel, appreciate, and understand one another's worlds.

Managers That Lead® creates a foundation for building and establishing new managers who not only get things done, but they also lead people in making it happen like never before!

"One quickly learns who delivers solutions and one who loves to hand over problems." - Max DePree -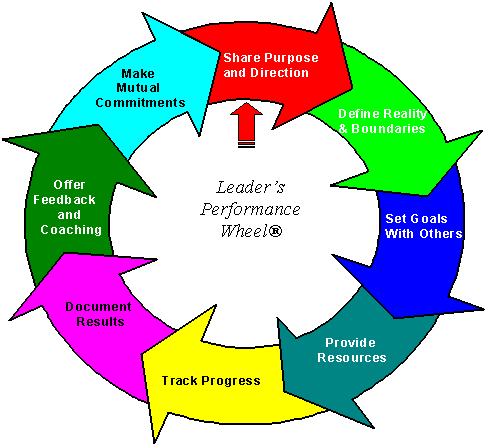 PAGE Alignment Process® helps you to be more effective in implementing your business strategy. PAGE® aligns strategic efforts with the day-to-day to ensure that you and your people are on the same page with regards to where you are going, what it will look like when you are there, and how you will work together to make it happen. PAGE® includes an in-depth assessment as to what is working well for you now and what gaps need to be closed in communications and planning - giving you both qualitative and quantitative data to your people and their effects on your business results. For Departments, Teams or Organizational Groups!
As a piece of the PAGE® Alignment Process, the Learning and Performance System® blends the best in developing key employees with a focused mentoring and coaching process to develop leaders and build bench strength throughout the organization. This process is most often used as a follow-through by our clients to ensure that training and learning efforts are integrated into the day-to-day business to realize ongoing results.

Strategic Discovery and Design® creates organizational cohesion!!! Have you ever seen a group of 100 people take 2 days to create a vivid picture of the future-then take 100 days to build the blueprint to make it happen? It's a great experience for those involved and a terrific boost for your business efforts to eliminate silos and connect the entire business.

The Company TEAM!® Customizable for team leaders, work teams or cross-organizational teams!! You know that a challenge lies ahead for ALL of you to work towards. Now, it's time to align your people in a collaborative effort across the business to build accountability and get results - on time and on budget. This one-day session will allow you to sharpen your skills as a leader who is pulling teams towards your business solutions - whether it be in your role as Vice President, Manager, Assistant Manager, or Team Leader!

You'll learn creative and timesaving ways to identify challenges, bring together your resources, and focus on the actions necessary to get the production you require.

You'll get better at:
Team Leadership
Being a Great Team Player
Keeping Team Focus
Getting Teams Unstuck
Dealing with Team Conflict
Setting Team Goals
Roles & Responsibilities
Managing Team Relationships
Measuring Team Performance
This process involves the use of highly structured team experiences that are fun, engaging, and focused on skill acquisition and development for use back on the job.

It is delivered using a blend of:
Structured Business Simulations
Experiential Team Problem-Solving Exercises
Focused team development activities for your specific challenges
Case Work
Mini-lectures
Application Projects
and Lots of fun!
This session is active (although not necessarily athletic), both indoors and out. Please dress casually in comfortable clothing that permits freedom of movement and adaptability to the weather. Dockers, golf shirts, gym shoes are acceptable and a good example of what might wear well for you.