Our Process


We Listen First. At Lair Learning Alliance, we base our business on the belief that each client, team, and organizational system is unique, requiring a custom-designed approach. To ensure that we will meet your specific needs, we place a priority on listening to you first and learning about your unique situation and challenges. We utilize our own SCOPE® Discovery Process:

SCOPE® Discovery Process
What is the SITUATION background and history?
What is the CURRENT state?
What are the specific OBJECTIVES for the current learning
process to move you from where you are at to where you are going?
Where is your PREFERRED state?
What are the EXPANDED possibilities for your
organization/group?


How We Work With You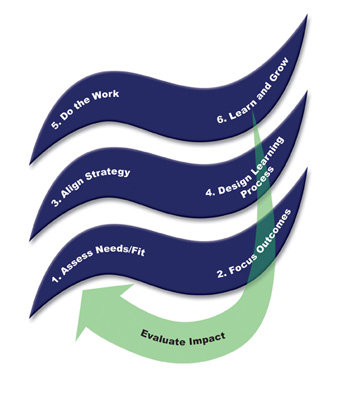 1. Assess Needs and Fit – First we want to make sure that what we do fits your needs. We use a combination of tools (interviews, surveys, Focus groups, instruments, work samples, etc.) to discover where you are at, where you are going, and breakthroughs needed to get to that place.

2. Focus on Outcomes – Here we narrow the focus of the assessment to your specific objectives of the work right now within the larger business context.

3. Align Strategy – Learning only takes root in the workplace when it is aligned with business vision, strategy, and support systems. What systems and structures will support the learning? What will be done to make sure it grows on the job?

4. Design Learning Process – The process for learning that will work best with you will be designed to incorporate your culture style, work practices, and scheduling needs. Materials are custom-fitted to your environment for acceptance, accuracy, and content-specific focus.

5. Do the work – The learning workshops, events, consultations, retreats or the combination of these delivery modes are used to make the work come alive for your people and organization.

6. Learn and Grow – We will continuously work with you as a partner in the learning process to make sure its working and what is not working is modified to do what is needed.


We Design Learning to Fit Your Needs. To ensure maximum value for our clients, each learning experience is custom-designed specifically to meet your needs. Although we use time-tested and proven techniques, including consulting, workshops, presentations, and retreats, each program is uniquely crafted to "fit" you and your situation. You won't find cookie-cutter solutions at Lair Learning Alliance.

We Focus on Bringing People Together. Our core work focuses on bringing people together to experience the excitement of creating goals together and devising strategic plans to achieve those goals. Using learning and discovery, we help people develop workable processes and generate enthusiasm and "buy-in" for implementing those processes to achieve their mutual goals. We believe that when people work together to develop solutions, they achieve the ownership necessary to accept accountability, work through change, and make positive things happen.

We Provide Learning that Works. As you can see from the "Bell" chart below, the best learning-and the learning that is remembered-is achieved when those involved are participating, active, passionate, and doing the real thing. At Lair Learning Alliance, we wholeheartedly embrace this philosophy; that's a key reason why our programs are so effective.


Our learning processes also use time as an advantage. For example, we may use 3 hours a week over a pre-determined number of weeks. This allows time for individuals and teams to form new habits and practice new skills. Delivering the course over time also allows time for customization of material between sessions to continually meet any existing concerns and to use relevant issues in the training process.

We're Energetic and Engaging. You don't have to worry about participants being bored or uninvolved! Our delivery style is very energetic and learner-centered. We blend visual and graphic facilitation, mini-lectures, thought-provoking demonstrations, team exercises, small group work, and week-to week assignments to stimulate thinking, imagination, growth, and learning. Our customers praise the learning experiences as "not only instructive and productive, but fun!"


To learn more about Graphic Facilitation and Open Space, please visit Our Additional Processes page.






Experiential Training and Development Services.pdf